i know it's late but....happy 2009!
another year for change (honk honk). another year to make things right. another year to celebrate life and the glory of REALLY living it. another year to make that giant leap of faith. year of the awesome ox! it's our year, 1985 babies! it's our year!
i started 09 doing what i love...t to the ravel! i visited new york city again. yay!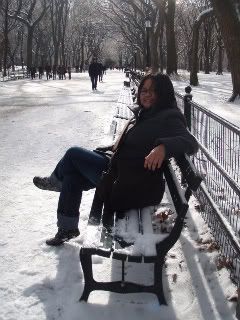 at the literary walk at central park
it's fun to experience nyc in the winter. i enjoyed it so much! i went with claudine and some other friends. more on our adventure on my next post. god i so want to move there. i'd love to be a part of it. even just like a tiny speck in its hoi polloi.

i still have to make an entry for my 2008 recap. it's a young blogging tradition and i enjoy doing it. browsing through my 2008 photos brings a lot of memories. i was blessed with amazing travelling experiences in 08. more on those on the upcoming recap post.
anyways, this news made my day...
Eleven-month-old boy accidentally dials 9-1-1 and gets dad arrested
THE CANADIAN PRESS
21/01/2009 2:55:00 AM
WHITE ROCK, B.C. - A B.C. man probably wishes he had given his 11-month-old son a set of keys to play with instead of a phone, after the infant accidentally dialled 9-1-1 and brought police to dad's marijuana grow operation.
Mounties say a 9-1-1 call came in from a White Rock, B.C. residence Friday morning but whoever was on the other end of the line hung up. Officers arrived at the residence and after numerous knocks on the door went unanswered, they entered the home.
"The gentleman was quite surprised," said White Rock RCMP Const. Janelle Canning.
She said the 29-year-old male, startled by the sudden sight of police, insisted he hadn't made the call.
When it was suggested a child might have dialled, the father objected and said his son was far too young.
That's when police spotted the baby boy, phone in hand.
"We saw him playing with the cordless phone and just pressing all the buttons, so evidently he had called 9-1-1," Canning said.
With that mystery solved, officers began inspecting the residence and soon discovered a 500-plant marijuana grow operation.
The father was arrested and will appear in court in early April on charges of production of a controlled substance and mischief.
The boy was removed from the home by the Ministry of Children and Family Development, though he was later released into his mother's custody.
The mother does not live in the residence and Canning says she had no idea what was going on at the home.
yes people, babies can be trusted to watch their own back.