so far, we're experiencing a good autumn. just right amount of chill factor in the wind...a tolerable cold in the mornings and lukewarm sunny afternoons.
that's why two saturdays ago, we did this....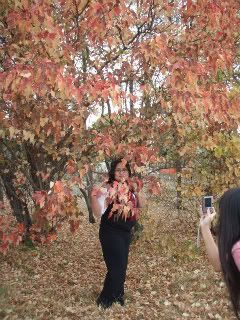 ....and this.....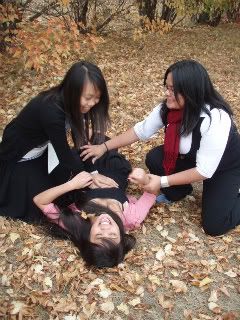 ....along here....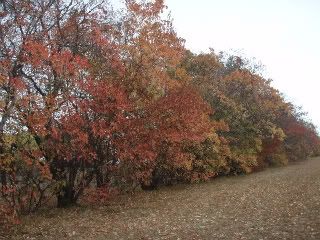 ....at the northgate part of the 97th street stretch
that area right there is a popular autumn photo-op spot. the colored leaves are just so pretty when they're all clustered with the other trees.
-------------------------------------------------------------
this morning, when i got off the bus at downtown, i bumped into a local tv personality. i had an itsy bitsy face time with
bridget ryan
of citytv's breakfast television. she' s like the joy cordero and love anover of those morning shows back in the philippines. from the looks of how they're setting up their lights and camera, i guess they're going to do that impromptu interview thing with pedestrians. they will probably ask people about their views on the coming federal election. should canadians stay with stephen harper's leadership or give stephane dion a shot?
----------------------------------------------------------------------------
for some nostalgic god knows reason, i've been playing my uber favorite 80's ballad for the last 2 hours...."suddenly" by olivia newton-john and cliff richard. oooohhh the memories of younger me....the smell of hot pandesals in the afternoon after siesta.....getting told by ate fely to not get ourselves too dirty from playing outside....morning taho ritual....saying hi to mang mansing everytime he delivers our mail....and a gazillion more whatnots. lol yes "suddenly". fkc yeah! you guys should check out cheyenne jackson & kerry butler's version. cheyenne has the manliest singing voice ever. saw him strolling along soho when i was in nyc. oh god sooo delicious...even though he's gay. him and neil patrick harris are the, i swear, only gay guys that i would zipzoink do it with...hahaha..seriously.
so tell me, what are your favorite 80's songs?
**btw, i'm going to use my apparent power in this blog to veto journey's "don't stop believin". what? you're asking why? well duuuh! it's only the best song that came out of that era....that and billy joel's "we didn't start the fire" lol
ok scratch that. just tell me what's your fave song from the 80's. word. double word.