2 weeks ago, my dad got in an accident with my youngest sister on board and two other kids. it was not their fault.....AT ALL. their car was in complete stop and then comes this car #1 hitting car #2 that ends up being catapulted onto my dad's car, hitting the driver's side thus making the airbags deploy.
my dad is ok (thank god) and so as his passengers. but the lady on car #1, she started seizing after the crash so my dad called an ambulance for her. 1 passenger on car #2 was hurt too. nothing too serious though.
here's a photo of car #2 (blue car is my dad's)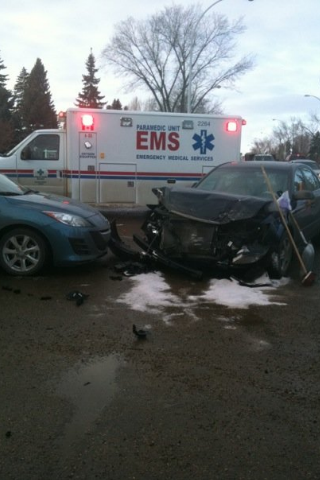 guess how i found out about the accident.
yes, via twitter. (wonderful, eh?)
accident uno happened last month. my mom's left back tire was hit by a car while making a turn. she ended up making fishtales and then almost tipping over the fj cruiser on top of a big snow bank...on the other lane.
i swear to lucifer.....NO MORE ACCIDENTS FOR 2010! NO MORE!